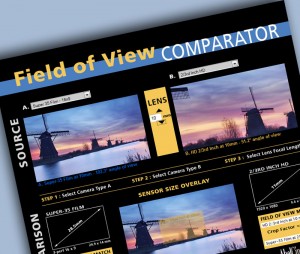 There used to be a time when you could base all your lens selection on that of 35mm lenses. You knew the field of view that you'd get and could use terms like 28-80mm to describe an all-purpose zoom lens. The problem these days is almost every camera and format uses a different pickup size and thus a 50mm lens on one doesn't match a 50mm lens on another.
The folks at AbelCineTech have put together a web page to help you visualize it all.
Punch in the camera you're using and the lens you've selected and you can get a side by side comparison of field of view.
It's kinda cool to play with… and it's FREE.