It has been a good weekend for spring cleaning. Along with unpacking from NAB, I decided to work on freshening up the layout of b-roll.net.
I present the new look of b-roll.net. A little brighter, with more photos and easier navigation. We hope you like it…
There will probably be tweaks in the coming days so let us know what you think.
Like any true spring cleaning, you wind up pulling out the old photo albums to see what you looked like in years gone by.
I went back to the web equivalent of the old photo album, the Internet Archive Wayback Machine, to see what the site looked like back in 2002. Behold bad web design…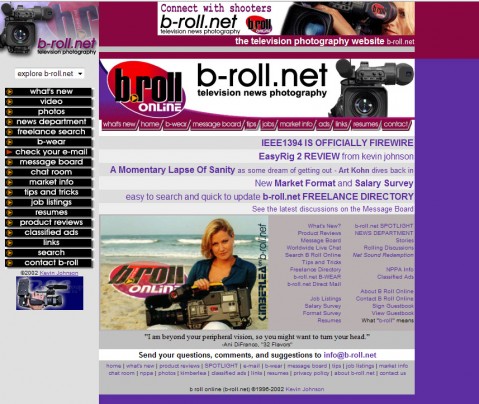 Also, after a tip of from Tippster on the b-roll.net FORUM, I dug up the photo collection of the b-roll.net GIRLS.
Cleaning can be very nostalgic. I should get back to vacuuming.