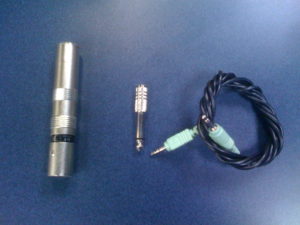 From: Chris Stuard, WVEC-TV 13, Norfolk, VA
One thing that has always annoyed me is when a producer or intrepid reporter would want me to shoot a video off the computer with sound (especially off the laptop in the field… Can we say YouTube?). After repeatedly being frustrated by micing up the (usually tiny) speaker with the stick or even a
lav, I turned to a few items in my bag of tricks I call an old fishing tackle box: A Hi-Z to Lo-Z adapter (mono female 1/4″ to male XLR), a female 1/8″ stereo to male 1/4″ mono adapter, and a stereo computer speaker cable.
Attaching these three items and connecting the hi-Z to lo-Z adapter to
channel 1 or 2 and the computer speaker cable to the headphone port of the
computer, and I'm all set to go with crisp, clean audio, with no worries if
any noises in the background interfered.