We work in a very unique profession, and often the best ideas are the ones that come from necessity in the field. Photographers can be very "MacGuyver-ish" with gaffer's tape, a clamp, some bubblegum and a paper clip.
Many years ago, we created a Tips and Tricks section of b-roll.net. Posted ideas ranged from shooting a train coming at you via a mirror to finding an inexpensive dimmer at IKEA. Some are things you already know; others give you a total "why didn't I think of that?" moment.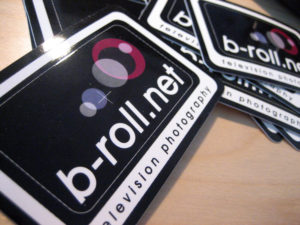 We're unveiling the new, searchable Tips and Tricks section of b-roll.net TODAY. You'll now have easier access to the great knowledge base of our impressive readership.
We want to add your Tips and Tricks to our library, and we're not afraid to bribe you. Not only will you get the bragging rights of seeing your name in lights on b-roll.net but, we'll also send you one of our brand-new b-roll.net STICKERS.
Email us your Tip or Trick (with b-roll.net TIPS in the subject line) to: info@b-roll.net. Please include a solid write-up of your idea, along with your name and the company you work for. You'll have a better shot at being published if you include some good photography to demonstrate your idea. And don't forget to include your mailing address – we won't publish it, but we need to know where to mail your sticker.
So that's your homework assignment… get writing, and we'll see you in class tomorrow.