Administrator
Staff member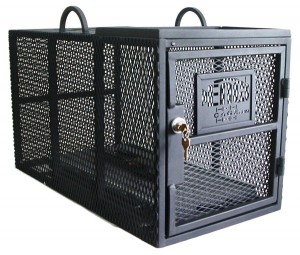 It's always good to hear about street-wise photographers developing tools to help make our job easier. Who better come up with the innovations, than the folks who use it.
That's why I was impressed with the information I received from
Gregg Hamilton
, a shooter based in Houston, TX.
FOR IMMEDIATE RELEASE
Two veteran broadcast photographers have designed a new security cage that protects video cameras from being stolen or damaged, reduces back strains and protects passengers from a potentially lethal flying camera in the case of a traffic accident.
The
ENG Cage
bolts securely in to any vehicle, resulting in zero movement of the cage or your camera. Your camera locks into place on the cage's universal tripod plate which is securely attached to a convenient sliding drawer for easy access. The 100 lb.-capacity sliding drawer was designed to keep your camera at waist-level to minimize lower-back strain common to broadcast photographers.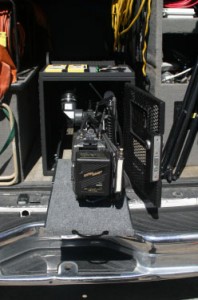 The ENG Cage is made of welded steel protected by a black powder coat finish that resists rust and scratches. The long-lasting, durable coating is complimented by a multi-layer hook lock system that only is accessible with a key.
The cage measures 15″ by 18″ by 30″ providing a compact yet secure system to protect your valuable equipment.
The ENG Cage's designers were motivated to find a better solution for video camera security after several colleagues became victims of camera theft. "I've known a number of photographers who have had equipment stolen from their vehicle," said ENG Cage's Gregg Hamilton. "I've also come close to being nailed by a flying camera during an accident so I was looking for a solution to protect both myself and my equipment. ENG Cage's design meets my needs—it exceeds my needs. The reduced stress and strain on my back is practically a bonus."
Hamilton said the cage, which weighs about 60 pounds, features handles at the top and transfers easily from one vehicle to another. "I truly believe ENG Cage is the best video camera security cage on the market," he said.
For additional information, visit
ENGcage.com
.
"Every News Photographer knows of someone who has had their camera stolen…if not there own. Thieves follow crews until just the right moment and swoop in for the quick mash and grab. And if you have it chained up its just a bolt cutter away from being taken.
With the ENG CAGE it prevents all that and more. This cage really serves several purposes. For Starters and the most obvious is the fact it would take a crook hours to cut thru the steel. And the lock is a multi layered steel lock so forget cutting thru that. Plus I have it mounted to the floor of my unit so it's not going anywhere. And with the sliding drawer it has several benefits as well. Easy access in and out of the cage, brings camera to waist level so no more bending to grab your camera out, and also provides a work bench.
This Cage not only provides a peace of mind but the ENG CAGE also prevents?your camera from becoming a projectile inside your news unit and keeps it safe from from being damaged by other loose equipment. I was real impressed with the quality of the powder coating as well as the detail of its assembly. The construction is clean, sturdy, light and seems to hold up well with repeated use.
Check out there web site
www.engcage.com
they even have a video demonstrating how it works."
Mike Orta
Photographer
Fox Sports Network
​
More...