From: John P. Creel II
Like it or not we are moving away from using ENG and SNG trucks for live shots.  With that goes the generator necessary for running our lights.  At nighttime and in bad weather it creates a black hole behind the talent remedied only by AC on location.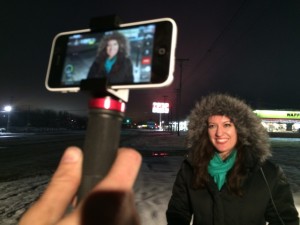 There are many ways to solve that problem, from portable generators, ac inverters, to battery powered lights.  Generators can be heavy.  Their output vs. weight makes their value questionable.  They also require gasoline which I don't like sloshing around in the back of my car in the event of a reared collision.
AC Invertors are great ideas, but anything more than 300-400 watts requires special heavy duty wiring directly from the battery.  Inverters also waste some of the desired energy in the conversion procession.  I also don't like the idea that I might kill the very battery I need to crank the car and go home.  Inverters need their own battery and a heavy duty alternator to keep up with the load.
Battery powered lights are just now becoming possible with the advent of low wattage LED lamps with sufficient output to light the scene.  There are as many different lamps as there are battery options, but LED lamps are expensive.  In market 86 budgets are tight, so I endeavored to see what I could build.
My first find was a tungsten LED bulb that would fit inside a Frezzi Mini-Fill.  35 watt tungsten bulbs were killing our camera batteries in the field.  II found this bulb, a JACKY LED MR16 6W Dimmable COB Led Bulbs, 55W Equivalent, Warm White 3000K, Recessed Lighting, LED Spotlight, 550lm at Amazon (by JACKYLED).
If fit inside the Frezzi housing, but not perfectly.  The light works great and has a full color spectrum, but only draws 6 watts versus the 35 watts of its tungsten counterpart.
I'm having a new front cap made to hold the Jacky bulb in the Frezzi light we're testing. (In the meantime a little duct tape magic on the Frezzi cap is holding the bulb in place.)   Frezzi also makes a tungsten LED, but it's a $118 versus my bulb at $8.00.  They include a modified front cap for holding their bulb in place.
Now it was time to find an outdoor housing that would hold the same bulb and could be modified to fit on a light stand.  I found a landscape light at Lowe's Home Improvement store, a Portfolio 35W Low Voltage Floodlight, that uses the same bulb holders as the Frezzi lights.
They only need a rod in their base to clamp on to the light stand.  I inserted a 9" hollow rod into the stem of the lamp. It's held in place with epoxy.  I ran a 20' of 16 ga. of 2-wire extension cord thru the pipe into the head for dc power and I just  soldered the wires together.   I secured the cord by filling the rod with silicone.  I put cigarette lighter plugs on the other end fused for 5 amps.
(20' is the maximum length a 16 ga. cord should carry 35 watts at 12 volts DC.)  I also added a couple of metal clips from an office supply store to the front caps for holding gels and diffusers.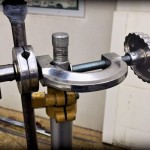 The lights mount to any standard light stand with a 5/8 stud.  "I used a Larson Reflectasol Studio Lighting Clamps #25433 from Ebay that would clamp a rod to a light stand.  I had 3 of these on hand, but  Avenger makes D250 Gag Gobo Grip Head (Silver) as does Matthews and several grip companies.
The front cap unscrews to replace the new LED bulbs in the fixture.  Since these light are not made to be moved I had to wrap the bulbs in some foam padding to hold the bulb securely in place.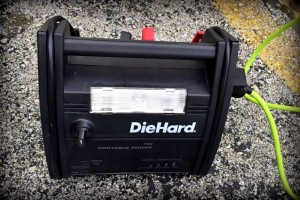 To power these lights I needed a cheap but, reliable 12 volt battery.  I found a 15 amp hour battery with jumper cables attached at Sears.  I added a 2-way splitter to the battery pack and so I could run 2 lights almost 40' apart.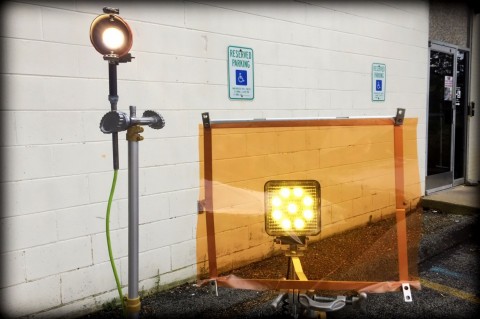 I'm guessing I could handle 6 live shots, 10 mins of light, over an hour and a half time span.  Now I have a hair light and a main light to avoid the dreaded black hole.  If I used the LED light on the camera I could do some background lighting plus hair light for real separation.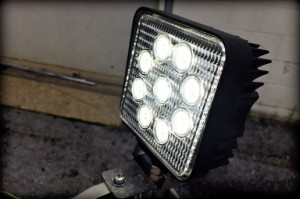 If you want to use a 3rd light at the same time I'd suggest you buy a second battery.  (The $75 jump battery has a built in charger.  I put it on a timer to keep it from overcharging.  Now I can run my lights and jump my car off if necessary.)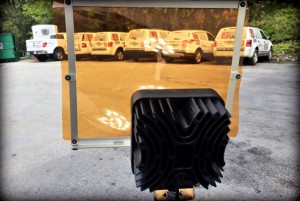 I also wanted to try some LED lights from the Auto Parts store.  They were fairly inexpensive, but very blue in coloration.  They were also very harsh lights, but with a 45 watt equivalent light output drawing only 8 amps I thought it might be worth it.  I mounted a gel frame in front of the light with a full CTO/orange gel to get the color temperature somewhere close to 3200K.  The light has plenty of punch, but I'm worried about the camera's ability to get good color with a skin tone.. To mount it on a light stand I used a 6" bolt screwed into the bumper mount.  My Larson brackets grab the bolts just like the steel tubing on landscaping lights.
In a perfect world where local broadcasters and new photographers had unlimited budgets I'd buy this as a battery powered kit from Lowel or Ikan, but that's not the case.
Price and hardware wise I like the Lowel PRO Power Daylight LED, but in 2 light kit with their batteries included were talking $2100.  Their battery kit alone is $513.  They also make a weather resistant 17×15 LED panel light I'd consider for an additional $1500.
Now you've got 2 different lights to experiment with and tweak.  You should be able to avoid the "black hole" look on your live shots with Live-U and any other situation where AC isn't readily available.