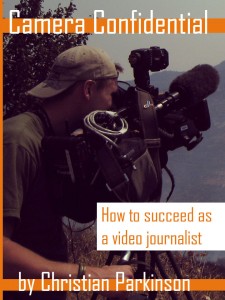 Long-time friend of b-roll.net and BBC shooter,  Christian Parkinson always has good stories to tell. He shares his many travels in Africa for the Beeb…
Now he's put those great ideas down on paper – or virtual paper – in a new ebook called Camera Confidential: an insider's guide to video journalism.But always wanting to give back, Parkinson has decided to give all profits from the book to the Rory Peck Trust – a group dedicated to supporting journalism freelancers.
I've written Camera Confidential to help people who shoot. It's the book I wish somebody had handed me as a fresh faced twenty-five year old jumping on a plane for my first foreign assignment. Sections include: breaking into the industry, how to pack your kit, how to fill out customs paperwork, what to carry in a warzone, how to operate in extreme weather, how to shoot interviews and pieces to camera and advice on writing scripts and story-telling.