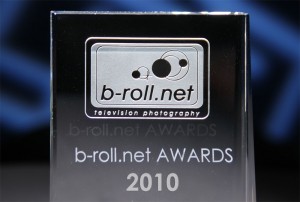 For the past 4 years, it has been my honor to host some of the world's best TV news clips at http://b-roll.net/tv. Back in 2007 we began the b-roll.net AWARDS and with an innovative online voting system, we changed the way photog video contests are judged.
The democratic voice of all "b-rollers," selected amazing stories and rewarded the photogs that made them shine. The prize was a gorgeous engraved crystal trophy and bragging rights for the next year.
Normally, this is the time of year we'd be prepping the site for a new round of entries and starting the next b-roll.net AWARDS. In the past, a number of great sponsors have helped us deliver substantial awards to shooters around the world. Unfortunately, due to a lack of sponsorship this year, we're going to have to suspend the contest.
The plan is to go back to the "garage" and hammer out some new technology that can make for an even better contest system. With improved technology and some new sponsors, the b-roll.net AWARDS may just come out of retirement in future years.
Thanks to everyone who has helped keep the contest rolling. Great thanks goes to Amanda Emily for fighting the hackers that have looked to break the TV section on b-roll.