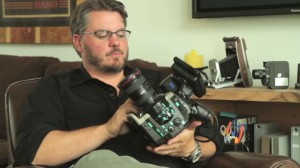 Three years ago, I was blown away by a short "fashion" video by New York Times photographer, Vincent Laforet. One of the first videos shot with a DSLR, it made the Canon 5D Mark II a legendary camera and changed the direction of a number of photographer's careers. Amazing clarity, color and depth of field was now available for an affordable price. The film and video world has been different ever since.
Today, Canon announced its latest camera, the C300 at the Canon Hollywood event. The camera, built first for video, has a new form-factor, time-code, waveform, and many other features you need on a video camera. See below for many links to all the camera specs.
To demonstrate what the camera can do, Laforet shot a short film in the Mojave desert – in some of the most demanding shooting conditions possible. The resulting film, Mobius, is gorgeously shot and a fun little ride. We're waiting for a lot more info on the new camera, but this might change the game a little more.

Check out Vicent Laforet's blog about it.
Engadget's look at the clip and camera
Abel Cine's look at the C300
The Verge has specs on the camera