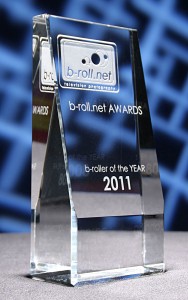 After too much delay (my apologies) I'm very proud to present the 2011 b-roll.net AWARDS.
This years contest was full of amazing participants. Not only does your work gives us a great competition, but your stories are inspiring and continue to help teach new ideas to all of us. Your dedication to the craft encourages everyone to continue to grow and improve.
The voting b-rollers help make this contest thrive. The unique nature of our voting system means that everyone has an equal say in which clips win. The AWARDS are truly a contest of and by our peers.
Thanks so much to Al Tompkins for sponsoring the AWARDS and allowing us to offer a beautiful solid crystal trophy to the b-roller of the YEAR. Check out his book, Aim for the Heart to learn more about storytelling like a pro.
I've delayed long enough, allow me to present the big award!
I don't think I've seen a tighter race for b-roller of the YEAR.
Rob Collett and Matt Mrozinski remained neck and neck – even tying for first place in the In Depth category. In the end, it was truly a photo-finish ending.
CONGRATULATIONS to…
2011 b-roller of the YEAR
Matt Mrozinski formally of WAVY, Portmouth, VA
(now with KING-TV in Seattle, WA)
Matt proved himself with a large stable of work in the AWARDS. At least one of his stories made it to the final round in 9 out of 10 categories. His consistant vision makes me proud to name him our 4th ever b-roller of the YEAR.
View some of Matt Mrozinski's work: