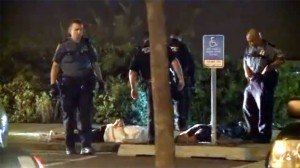 From: b-roll.net FORUM
Video that seems to show a Seattle Police officer kicking a suspect is raising more questions than just about the behavior of the cops. It has come down to who owns the video and whether news organizations have a responsibility to report the news.
Back in mid-April, Jud Morris, Freelance photog for Seattle's KCPQ Q13 was heading home after his late shift and caught a police situation on his personal camera. After an armed robbery in the Lake Union section of Seattle, police thought they had their suspects. As police detained the suspects, one officer racially berates the suspect and appears to stomp on his arm while a second cop seemingly stomps on his leg. In the end it was a case of mistaken identity. The individual wasn't even involved in the crime and was allowed to walk away.
View the raw video posted by The Stranger.
Morris took this video back to Q13 and after a few executive discussions, it was decided the video was not egregious enough to air on that channel.
Since Morris claimed to have shot the video on his on time with his own gear, he felt it was his right to shop the video around. Eventually, KIRO-TV bought the video and aired the story.
Now Q13 claims Morris shot the video on company equipment and on company time, thus wasn't authorized to sell the video to another station. Mr. Morris has since been fired from Q13.
KIRO-TV's raw interview with photographer, Jud Morris
In an attempt at full disclosure, I work for Cox Media Group which owns KIRO-TV.