The headline of this post dates me. I'm a child of the 80's and I was a big fan of the famous Tommy Tutone track musing about Jenny's phone number on a bathroom wall.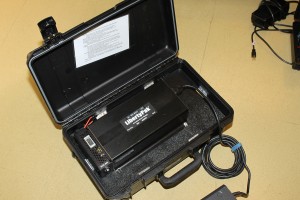 While it has nothing to do with this story – that song has been in my head all day today after meeting with Gregg Hamlin of 16×9,Inc this morning.
Still on tour from NAB 2010, Hamlin was performing with "Big Genny," a 960 watt hour silent generator in a suitcase. Charge it at home for about 3 hours, take it with you on a plane (more on that later) and power a 400 watt HMI light ANYWHERE IN THE WORLD for about 2 hours. Finally you can get a powerful HMI frying your talent on a sunny day in the middle of a field that is miles from a power line.
Back in April, when they sponsored the b-roll.net BASH, the folks at 16×9 were telling me about this new "green" power supply are starting to distribute from LibertyPak. My head was full of new gear of all shapes and sizes, so I didn't fully absorb what the Big Genny could do.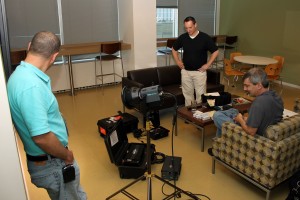 This morning's meeting at the Cox TV's DC office with Hamlin along with photogs Jeff Williams and David Chase gave me a chance to see what LibertyPak is all about. You can read all about the specs on the 16×9 website, but here's my "take-away."
The LiberyPak System is completely UN-DOT / IATA approved for flight. This surprised me because of all the new changes with FAA about batteries in flight and due to the fact that when the case is opened, it looks like every sinister bomb in every Bruce Willis movie, complete with a power gauge made to look like a countdown timer.
It's batteries use Lithium Iron Phosphate cells which are installed in such a way as to be considered airplane legal. LibertyPak calls this their Safe Lithium Chemistry (SLiC) technology. You can check the Genny with your luggage or even carry it on. Well, the Big Genny is 45lbs, so the weight might stop you from carrying it on – but the battery composition won't. They even have all the certification information posted on the case so you can explain it to the TSA rep at the gate.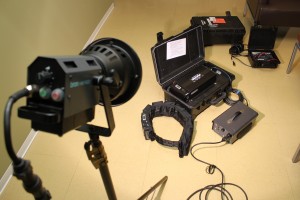 We plugged in our Kobold 400watt HMI ballast into the Big Genny, hit the power switch and it lit without a whimper. Time didn't allow a full test, but a fully charged Big Genny should power this HMI for 2 hours. That's plenty of time for your reporter to do 10 or 20 takes on that standup they can't seem to spit out, pl;us you'll even have juice to power your laptop and charge your camera batteries.
The system is made of solid construction and can handle the elements. The case is even built with a channel for your extension cord to feed through when the lid is closed.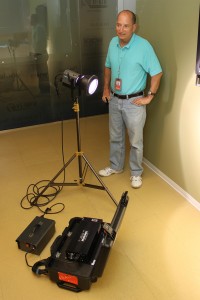 My first impression was the $6500 price tag is a little pricey. But, considering it can do things other power-supplies can't do and can go where other power-supplies can't go, it may be the only solution for your next adventurous shoot.
The Big Genny's little sister,  "Little Genny" is a more manageable size and weight and still puts out around 400 watt hours. That can easily run your battery charger, your cell phone charger, and your laptop editor. And if you want to be completely off-the-grid, the Little Genny and other LibertyPak battery belts can be charged with their flexible solar panel system.
Kinda makes you wanna go do a shoot in the middle of nowhere, doesn't it?
Before I leave, I oughta scrub off the phone numbers I left on the bathroom wall.