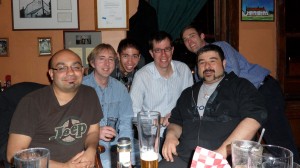 Thanks to all the Denver TV folks who joined us at Pint's Pub in Denver last night. It was a great time, even though the bar kicked us out at 11:45pm.
Congratulations to Shawn Montano, for joining us to celebrate his being named NPPA Best of Photojournalism TV Editor of the Year.
Thanks to everyone for showing us a great time in the Mile High City.