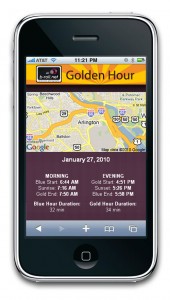 Here in DC, days are finally getting longer. At least long enough to prevent the need for changing gels from daylight to tungsten between the 5 and 6pm live shots. It's nice to think it's only going to get better (until the Summer Solstice).
It's always helpful to know when you're going to need gels for live shots… and when you'll get that beautiful golden sunrise or sunset for your next shoot.
We've had a helpful b-roll.net GOLDEN HOUR calculator here for a while now, but photog historian / web guru, Amanda Emily has taken it mobile for us. Using your iphone (sorry crackberry and android fans), go to http://b-roll.net/gh. Your phone will ask you if it can use your location… click yes (don't worry – we won't tell the desk where you are…) and select "Get Information." You will quickly be given the Blue Hour, Gold Hour, Sunrise and Sunset times for your location today and tomorrow. Probably more info that you need… but do with it as you will.
Don't forget to press the "+" sign and place the app on your homepage. This will make it easy to find.
Thanks to Amanda for the programming and implementation. Let us know what you need mobilized next!