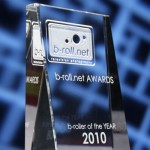 The final round of the b-roll.net AWARDS voting is coming to an end. At 12noon ET on Saturday, we'll shut down voting and tabulate the results. The new b-roller of the YEAR – along with all the other awards – will be announced soon after that.
Thanks again to Fujinon, Kennedy's ENG, Xtender and PortaBrace for their support in this year's contest.
GO VOTE... and stay tuned for the results.