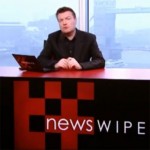 From: b-roll.net FORUM
I've only caught it a few times on YouTube, but I'm a big fan of Charlie Brooker's BBC 4 show Newswipe. It's a funny and biting look at the way TV news is delivered. Think of it as Jon Stewart and Frontline working together to do a documentary about the news biz – with a British accent.
jeremycohn on the b-roll.net FORUM, has stumbled upon this brilliant explanation of how to assemble a news package.
Maybe we need to spice it up a bit…