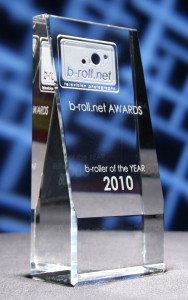 2010 b-roll.net AWARDS begin [fergcorp_cdt_single date="Sat 2 Jan 2010 12:00:00 -500″].
The start of the third annual b-roll.net AWARDS is just around the corner. The first completely online video contest for TV photographers worldwide – this pioneering contest broke new ground in 2008 by allowing photogs to have their work judged by their peers, and it's been growing year after year.
When the annual competition opens on January 1, 2010, hundreds of video clips will be entered and judged exclusively by thousands of b-roll.net members.
Work that was broadcast between January 1 through December 31, 2009 is eligible for the competition. And to make it interesting, we've added a few new categories this year.
Nat Sound: A single report which contains no reporter track, but rather only natural sound and subject interviews.
Non-News Production: A single clip consisting of work produced and broadcast for non-news purposes. Examples include but are not limited to commercials, promotions, industrials, episodics and music videos.
The complete rules can be found online at: http://www.b-roll.net/awards.
We're still looking for sponsors to help up pull of the best year ever. If your company is interested please contact us today.