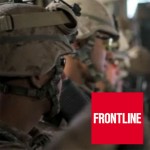 PBS's Frontline, one of the most beautifully shot and edited documentary programs on television, produced segments for it latest show Obama's War with the Canon 5DmkII. One of the DP's, Danfung Dennis, shot the opening sequence with a custom rig that allowed it to be attached to a steadicam rig.

The episode airs Tuesday, October 13, 2009 on most PBS stations. And you can watch it online at: PBS.org
Read an interview with Danfung Dennis.
From: Gizmodo