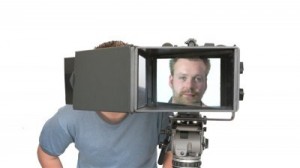 Ok… this has probably been around for a while, but I've never seen it before. The folks at VFGadgets, a Canadian outfit that always has cool toys, sent me a press release stating they are now offering the  "EyeDirect 16×9" from Eyeliner Texas.  The concept is to use a two-way mirror in front of the camera lens to put a reflection of your face directly in the line of the lens. That way you get more natural eye contact straight into the lens.
Granted, the majority of what I do in tv news involves trying to keep my subjects from looking directly into the lens, but for productions, this is brilliant. Check out this video clip to see what I mean.
Priced at over $1000, it is a little expensive, but for specific projects, it could be the only thing that works.