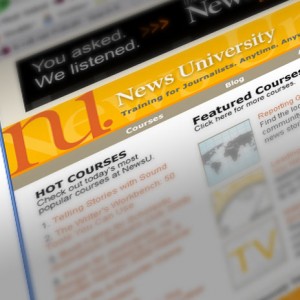 From: NPPA
With the Virtual Video Workshop coming up this Saturday, I wanted to re-run this story for July…
—
The Virtual Video Workshop is coming to a computer near you.
At last, a video workshop you can attend in your pajamas. This exciting new approach to providing a workshop online is being developed by the National Press Photographers Foundation, The Poynter Institute and the NPPA.
Among the presenters are the first-place winners from this year's Best of Photojournalism video contest, including:
Darren Durlach – Photographer of the Year, WBFF, Baltimore
Greg T. Johnson – Editor of the Year, WFAA, Dallas
Boyd Huppert – Three-time winner of the NPPA Special Award for Reporting, KARE, Minneapolis
Travis Fox – Multiple awards in the Web Video categories, Washington Post.
Mark your calendar for Saturday, September 19th. The program starts at 10:15 a.m. ET and the last speaker will finish about 4:00 p.m. ET. If you can't commit to the entire day, don't despair — presentations will be recorded and as a benefit of registration you'll have free online access to all sessions at your convenience.
The workshop will be delivered via Poynter's e-learning site, News University to your computer.  All you need is a broadband connection and speakers to hear the audio.
Each session will be an hour long and will take you "behind the curtain," with practical discussion of the skills and techniques used by each presenter in creating their award winning work. Between sessions, participants will be able to ask questions and carry on conversations with the speakers through online text chat sessions.
The event will be hosted at The Poynter Institute in front of a live audience. In these tough economic times, prices have been kept low to make the workshop accessible:
$45.00    NPPA member
$55.00    Non-NPPA member
$35.00    NPPA student members currently enrolled in school
Free     Laid-off NPPA members who held a full time job in journalism and are currently unemployed
We hope some organizations will host local events around the workshop. We'll provide the backbone and you can set up a projector, choose some of the sessions and add regional speakers to your program for a day tailored to your group.
We'll announce session titles soon. Visit www.newsu.org/virtualvideoworkshop to register. Stay tuned to NPPA Close Up or nppa.org for the latest or drop Steve Sweitzer a note at sesweitzer.net@gmail.com for email updates. You can also follow the tag #vvw on Twitter.
We're extremely excited about this new model for bringing workshops to a computer near you, no matter where you live!