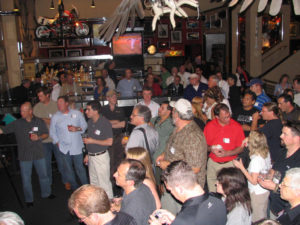 Only a week away!
One of my favorite events of the year – the b-roll.net BASH is becoming an NAB must-attend party. Check out the stories from 2008.

Last year's party was amazing with over 200 people attending, and we're doing it again.
Monday, April 20 from 6-8pm at the Harley Davidson Cafe on the Las Vegas Strip.
Long-time friends, Miller Camera Support are sponsoring us along with the folks at Xtender, 16×9, Inc. and Kennedy's ENG. Join us for free beer, food, stories and laughs.
Space is limited this year, and we want room for as many "b-rollers" as possible. Please REGISTER and ARRIVE EARLY. We can't let anyone in that has not registered in advance, and even if you register, it's first-come-first-serve.
Please register today by filling out the form below. If you're bringing multiple people, please fill out the form for each person separately.
See you in Vegas…