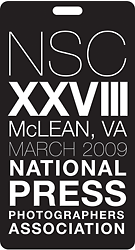 2009 Northern Short Course TV Program
Full program description and schedule at: 
The Workshops:
New Skills, New Tools for the Future
Change is inevitable. Newsrooms are evolving.
Are you keeping pace or falling behind?
Deborah Potter
NewsLab.org
Expanding Reporting Skills, Working and Learning Together
Tom Foreman
CNN Correspondent, Washington, DC.
Excelling in your job means understanding and appreciating the skill sets that your co-workers bring to the story.
http://www.cnn.com/CNN/anchors_reporters/foreman.tom.html
One Man Band and Loving It
John Gross
Reporter-Photographer, KSTP-TV
St. Paul, Minn.
John talks about bouncing back from setbacks and gives you
A motivational tune up to help you go to the next level.
KSTP-TV
Editing On the Road With Final Cut Pro
Joe Torelli, Apple Inc.
TV News Sage and Former NBC Network Editor
Joe will demonstrate Final Cut Pro HD editing, FTP workflow management
and help you develop the best editing practices on the road.
It is suggested that attendees interested in this seminar
review the two online seminars at:
http://seminars.apple.com/go/newsandsports
Video Lighting for News
Sean Filburn,
Belo News Capital Bureau, DC.
Lighting people well, under deadline, without spending a fortune.
Improve your speed and style
with some inexpensive options that are available to anyone.
What's My Job and Where I do I Go From Here?
Doug Legore and Stan Heist
Past Ernie Crisp Photographers of the Year
Previous Chief Photographers at
WHTM, Harrisburg and WBFF, Baltimore
Professional journalists are re-inventing themselves to stay relevant.
Explore how others have adapted skills learned in local news to new creative endeavors and are succeeding both inside and outside the newsroom.
Darren Durlach
WBFF, Fox 45 Baltimore
The 2009 Ernie Crisp Photographer of the Year.
He must be doing something right. Darren has won over 40 awards, including 3 Emmys and numerous NPPA and AP awards. If Darren Durlach won the lottery tomorrow, he would still work as a TV photojournalist.
b-rollnet-awards/2009-awards
NPPA.org
Tape Critiques
Bring your stories and a willingness to learn from each other and the best in the business. Tape critiques will be available Friday evening and throughout the conference on Saturday. Arrangements will be announced at the start of the program.
Please Bring all stories on DVD format.
Contact Bob Davis at Davisb@wcax.com for any questions.
Or call 802.652.6408