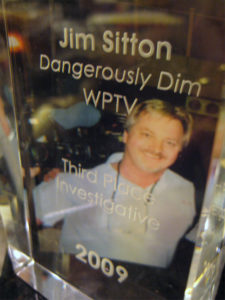 Congratulations again to all of the b-roll.net AWARD winners. Thanks to Jim Sitton of WPTV for sending photos of his award. Leave it to creative photographers to find new and different ways to shoot an image of them with their trophies.
I kind of feel guilty about my design of the trophies. There was no direct intent on my part to make it look as if  Jim Sitton is "Dangerously Dim". Now I have met some producers that fit that bill… but that's a different story.
Click here for all of the b-roll.net AWARDS news.