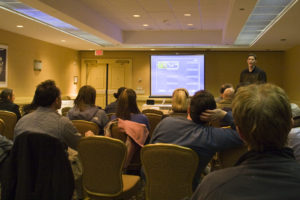 I spent this past Friday night and Saturday in McLean, VA at the NPPA Northern Short Course. Even though I have never understood the naming conventions of the NPPA courses – Flying Short Course,  Driving Short Course, Walking Long Course (ok, I made the last one up), they always attract the nation's top shooters to talk about our craft. Television Coordinator, Bob Davis allowed me to stop by and watch a few speakers.
Friday night included Greg Johnson of WFAA, a multiple b-roll.net AWARD winner, and NPPA Editor of the Year. He shared some of his work and moderated a discussion of editing philosophies. That discussion went right into tape critiques from some Quinnipiac University students who came in to learn from some of the best.
I learn a ton from critiquing other tapes. I get more out of looking at other tapes, than having people look at my own. The experience of watching these student tapes made me realize that b-roll.net is not fulfilling it's training mission as it should. Stay tuned for more details on how we can change that.
I was only able to catch about half of the speakers on Saturday. I was disappointed to have missed Deborah Potter of NewsLab.org in the morning and Stan Heist and Doug Legore in the afternoon.  I did get the honor of meeting the 2 time b-roller of the YEAR, Darren Durlach of WBFF in Baltimore, MD. Darren's work is truly inspiring, but his humble demeanor and passion for his work make him one-of-a-kind. Apple's Joe Torrelli presented workflow ideas for feeding video in from the field, without a sat truck – to many "ahhs" and "ohhs" from the back of the room. Finally, John Gross told the motivating story of how he followed his dream to become a TV photographer.
I was a little disappointed to see little progress in the merging of disciplines. It seems that a second video track is developing for still-photographers moving to video, rather than letting them learn from talented and experienced TV news photogs. There continues to be the total separation of still and TV that has haunted NPPA for a long time. With the changes in the economy and the industry, this is an important evolution to be made.
It was a great experience to meet all of these great photojournalists and watch some exceptional examples of our craft. My hats off to the coordinators of this years event.  Thanks for letting me participate. I hope to see more people in Cherry Hill, NJ for next year's Northern Short Course.