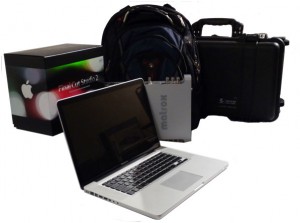 Midwest Media Group introduces the T-KIT1 and T-KIT2, designed to give flexibility and mobility for news photographers and journalists. Based on the Apple MacBook Pro, Final Cut Studio and the Matrox MXO2, this integrated toolset offers support of HD and SD, motion graphics and audio production wherever you go!
Included in the T-KIT1 is a multi-format USB reader for nearly every format of solid-state media used by consumer cameras and recorders, so you can accept video from a walk-up citizen reporter. The T-KIT1 also has a USB XLR Audio interface for laying down voiceover audio into field packages, a bus-powered Firewire drive for extra storage, spare MacBook Pro battery, Final Cut Pro keyboard overlay, and a Swiss Gear backpack to hold the T-KIT1 for on-the-go editing and package delivery!
For those that want extra security, the T-KIT2 offers all of the T-KIT1 components as well as a FAA-Approved Pelican Mobile Hardcase with wheels and travel handle. Survive any kind of mobile editing environment and trust that your T-KIT2 will keep your Apple and Matrox gear safe and accessible.
For further information, contact: Midwest Media Group, 800.221.3525; info@mwmg.com