Contributed by: Brian Young, Miami Beach, http://flacaproductions.com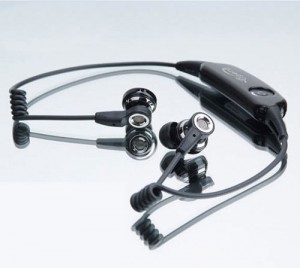 I took the plunge and bought a set of Kleer DigiFi Opera Wireless Earbuds recently and i think they're really great.
I used them yesterday on an all-day, network news, run-n-gun shoot (7 tapes off the shoulder, multiple locations, multiple vehicles, a quick 45 minutes in a helicopter…you get the picture) and was very impressed. It was perfect for this kind of day.
Today, I shot a sit down interview and went back to my normal system – a coiled cable audio implements custom mold IFB – I've never been a headphone guy – too cumbersome. I've been using these IFBs for 20 years. but I think in the future, I'll use the wireless and keep the IFB in the bag for a backup – even on sit-downs. I think it will be nice to be able to break away and mess with lights, etc and not have to worry about plugging/unplugging the IFB.
The DigiFi was a really pleasant surprise…something that has become second nature to me – using the IFB – has been greatly improved.
A few thoughts:
– I normally only want one ear monitoring, keeping my left ear open. I was a little concerned about achieving this with the digifi, (what was i going to do with the earpiece that i wasn't using?) but it was easy to accomplish. I put the right ear in, draped the receiver section of the unit across the back of my neck (it fits and feels very natural – after a few minutes, I forgot it was there) and then just tucked the left ear unit inside the collar of my shirt. It stayed put all day. NO issues. When we got in the chopper, I just picked up the left ear, put it in and it was great. A nice option for closer monitoring or higher noise situations.
– I was using this on a Betacam (D55/PVV3) and the one earphone output is mono. You have to plug the little transmitter in – which is stereo (since its main target use is for music) so I just used a mono-to-stereo adapter on the transmitter plug. Worked like a charm and since the monitor jack is in the back/bottom section of the deck (just above the XLRs, but below the battery) it didn't matter that it was sticking out as it was "protected" by the XLRs and the battery, and it rode there just fine all day. I'll eventually find a place to Velcro it, but the short extension cable it ships with is just a bit too short to get it any place viable. it's an easy 'fix' that really isn't needed, but is probably the way to do it right. If you have a camera that has a switchable mono/stereo mini-plug monitor jack, you might not have to employ an adapter to get both signals mixed down to mono.
They run at 2.4GHz. Audio quality is great. Virtually no lag (like bluetooth) and plenty of gain (which is still controlled by the camera output – the DigiFi only has a power switch on the transmitter and the receiver).  It actually has more gain than when I use the IFB. even at higher levels, there is absolutely no distortion in the audio.
You charge both units over USB – and they get a full charge in what seemed less than an hour. They ran all day with no issues – but I did shut them off during lunch and a couple of other down times. It's supposed to run for 10 hours on one charge. It automatically shuts down after a few minutes (not sure exactly how long) if it detects that its not moving any audio. It fired right back up quickly with a button push on the transmitter and one on the receiver. Easy. It never slowed me down and is certainly faster than hooking back up the IFB.
It's amazingly – and surprisingly – liberating to not be tethered to the camera, yet still be able to monitor audio. You can put the camera down for the little breaks and not get all tangled up. You can set the camera on the ground for a couple of shots – same deal. In the chopper it was really nice to have one less cable to deal with, yet not give anything up. It looks/feels pretty sturdy, so I think it'll hold up, but if it does die, I think I'd order another one – which is the real answer as to how much I like it so far.
I also believe that this is delivering a much higher quality signal than the IFB – not really hard to do, actually – so that's a nice plus. My only issue is trying to figure out what i do with the receiver when i'm done shooting. The IFB just clipped onto the camera strap – I'll have to figure out some place for the DigiFi receiver/earbuds to live when not in use – I think a little Velcro patch will solve that quickly.
So – from my early, one-time experience, this is a real winner of a little product. While it may have answered a question that hadn't been asked much, for me it's higher quality audio monitoring with one less cable. Win-win. Might be the best $100 I've spent in a while.
Full disclosure – I have no connections of any kind to this product…just a satisfied customer so far.