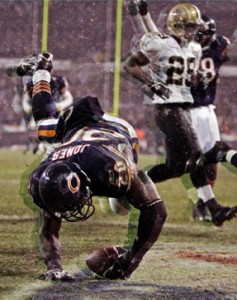 From: The Wall Street Journal
"[Tonight's] game between the San Diego Chargers and the Oakland Raiders will be broadcast live in 3-D to theaters in Los Angeles, New York and Boston. It is a preliminary step on what is likely a long road to any regular 3-D broadcasts of football games.
The idea is a "proof of concept," says Howard Katz, NFL senior vice president of broadcasting and media operations. "We want to demonstrate this and let people get excited about it and see what the future holds."
The several hundred guests at the three participating theaters Dec. 4 will include representatives from the NFL's broadcasting partners and from consumer-electronics companies. The event will be closed to the general public. Burbank, Calif.-based 3ality Digital LLC will shoot the game with special cameras and transmit it to a satellite. Thomson SA's Technicolor Digital Cinema is providing the satellite services and digital downlink to each theater, and Real D 3D Inc. will power the display in the theaters."
Read more at: http://online.wsj.com/article/SB122749333275552323.html
UPDATE:
From AP
LOS ANGELES – The first NFL game broadcast to theaters live in 3-D fumbled, then recovered Thursday night.
Two satellite glitches blacked out the broadcast to theaters in Boston, New York and Los Angeles in the first half of the game between the Oakland Raiders and the San Diego Chargers.
And on a few occasions, a quick camera movement or a refocusing — and one ill-advised dissolve — had viewers pulling off their polarized lenses.
Read more at:http://news.yahoo.com/s/ap/20081205/ap_en_bu/nfl3d