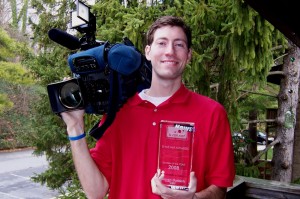 The contest began [fergcorp_cdt_single date="Thu, 01 Jan 2009 12:00:00 -500″].
Voting will begin [fergcorp_cdt_single date="Sat 10 Jan 2009 12:00:00 -500″].
The kickoff of the 2009 b-roll.net AWARDS is not far away.  Start uploading your clips now so you're prepped for the commencement of the contest on January 1, 2009.
If your goal is to follow in Darren Durlach's footsteps and be the next b-roller of the YEAR, or even a BEST of b-roll.net, be sure to upload something from at least 4 of the 5 core categories. Those categories are: Spot News, General News, Feature (Soft), In Depth, and Live Shot / Standup. You must have an entry in at least 4 of those categories to qualify.
For more rules and information, check out the b-roll.net AWARDS page.