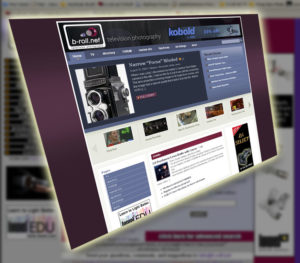 We're proud to unveil the NEW look of b-roll.net.
Having started in 1996, the site has grown a lot in the past 12 years. Unfortunately in the past 6 years, the design hasn't grown much.
In a recent survey, a few respondents commented that the site looks very 1990's. Considering that is when the original design was completed – they were absolutely right.
So we've changed the look and added some cool functionality. The most recent posts on b-roll.net FORUM now show up on the front page and well as the most recent clips added to b-roll.net TV.
We also hope to have more timely industry news and information to highlight on the front page. If you're interested in being a contributor to b-roll.net, please contact me at: kev@b-roll.net.
Please pardon our dust. With any new design, there are bound to be some glitches. If you see any problems, please email me at kev@b-roll.net.
Hope you enjoy the new face of b-roll.net.