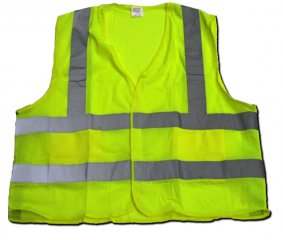 The time for new fashion gear is upon us.
Starting Monday, November 24, 2008, if you're shooting near a "Federal-Aid" highway, you must wear a stylish green shiny vest.
Federal-aid doesn't just mean federal highways, but any road that receives federal money. It is probably best to assume any substantial road is "federal-aid," but then again, wear it around any road. Why miss the opportunity to show off your green!
There are many complicated regulations to this – you can read the entire statute here.
The b-roll.net FORUM is alive with discussion.
Broadcasting & Cable did a story back in January.
How is this affecting your newsroom? Are reporters complaining about having to wear the vest in their live shots?