One of my gripes about small cameras is they don't work with the standard quick-release plates that our larger betacams do. You have to have your own camera specific mount.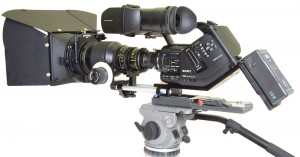 Now there's a great option – for the Sony EX3, at least.
Enter VFgadgets.com, a Toronto, Canada based company that prides itself on finding innovative solutions for camerawork. They've developed a simple solution that adds an extended base plate equipped to hold your battery and a standard v-wedge toe piece that fits in any standard quick-release plate.