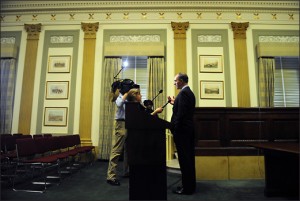 Back in May, I field tested the D-PRO XTENDER®. It's an innovative product that stays out of the way when you don't need it, but is quick and easy to spring into action. The opportunity to set my top light a little off axis when doing an off-the-shoulder interview is huge.
The folks at D-PRO were not satisfied with a great product, they wanted to make it even better. They put the XTENDER back on the engineering bench and trimmed it down. It's now sleeker and only a little over 6 oz. in weight, but still strong enough to handle just about any top light or small monitor attachment (up to 2.5lbs).
And after doing all of this engineering, they found the price had dropped as well. The XTENDER® X-110 kit is now only $199.
The XTENDER® is an indispensable tool for anyone who regularly shoots run-and-gun interviews with a camera top light. That's sounds like most news shooters to me.
Check out the full XTENDER® product line at: http://xtender.tv