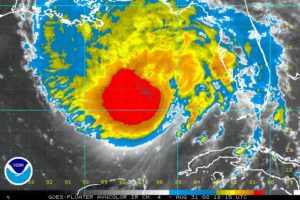 With Hurricane Gustav on the horizon, many shooters are getting in position to cover the storm. It's been a few years since I covered a hurricane, and I can't say that I miss them. One of my more illustrious storm was Hurricane Dennis almost 9 years to the day in 1999. The story of my Lost Truck has hopefully been a warning to us all.
Al Tompkins with the Poynter Institute has put together a number of resources for covering weather events like Gustav.
He's interviewed Jane Boulin, a New Orleans TV veteran of Hurricane Katrina. Boulin as a lot of good Hurricane Coverage Advice from working at WDSU-TV.
Tompkins has also built a Storm Tools website with storm surge information and links to news contacts, and he's made storm coverage the main topic of his "Morning Meeting."
Rick Portier, has taken his Baton Rouge based Turdpolisher blog south to New Orleans. Follow his coverage on his blog, and his station's WAFB blog.
Stewart Pittman, always a worthy scribe, has penned many great stories of storms past. His legendary wipeout during Hurricane Gordon was caught on camera.
Richard Adkins, a photographer at WRAL in North Carolina, is a weather-vet himself. A few years ago, he wrote an article for b-roll.net about what to pack for the long days ahead. They're called "Jack Packs," but I'll let Richard explain.
Let us know how we at b-roll.net can help with information and links throughout the storm. Be safe out there – and let's see your great footage on b-roll.net TV.