With a seemingly increasing number of stories of police harassing and arresting photographers making headlines, one man has made it his job to watch the police.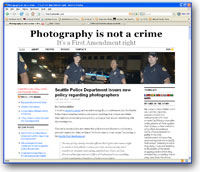 According to his own site, Carlos Miller, a photographer and videographer, was arrested by Miami police after taking photos of them against their wishes. While he works through his legal case, he has taken it upon himself to document situations of police harassment and First Amendment violation in his blog, Photography is not a crime.
Most recently he's been talking about the news videographer arrested in Albuquerque, NM, and the banning of photography in Union Station, DC.
These have been active topics on the b-roll.net FORUM.