Dynamic Storyteller Sets the Standard as First b-roller of the YEAR
by Brigette Polmar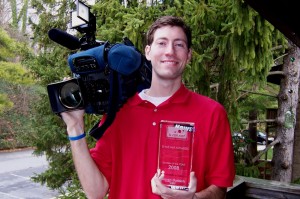 "I try my best to pay attention to details, to things other people may miss." By capturing every detail, Darren Durlach's outstanding photography is rarely missed, especially by b-roll.net members who voted to make the 26-year-old Baltimore shooter the first-ever b-roller of the YEAR. "It's been overwhelming. It's been really cool," said Durlach of winning the first annual b-roll.net AWARDS.
For Durlach, great shooting starts with great listening. "Just listening to people, listening to what people have to say in their stories," said the photographer who's also fond of using his wireless microphone to capture "fly on the wall sound."
After majoring in media studies at Radford University, the top shooter started his career in Charlottesville, Virginia at NBC29. From there he catapulted to WBFF, and with the big city came big opportunities. "I came here from a small market station not knowing what to expect," said Durlach. "I've gotten a lot of opportunities to tell really compelling, people-driven stories."
Durlach placed in three of the five core categories of the contest, taking second place in the General News category; first place in Features; and both first and second place in the In Depth category for "Daddy Logan" and "Operation Foul Play," respectively.
Taking top honors in the first annual contest meant competing against hundreds of entries and receiving the most votes overall. The contest highlighted work that aired in 2007. All entries in the January contest were shot and voted on by members of the b-roll.net FORUM. "What's cool about the b-roll awards is that you're voted on by your peers. That's very significant," said Durlach.
At WBFF, Durlach's co-workers were thrilled, but not surprised by the young photographer's early accomplishments. "I could tell when I first met him that he was going to be a good storyteller," said Stan Heist, WBFF chief photographer and 2006 NPPA photographer of the year. He credits Durlach with finding incredible stories on a tough 5:00 a.m. shift. "He did all of his stories out of the live truck. It's tough to get good stories on that shift, but he was able to make opportunities."
"He's an outstanding talent and we're lucky to have him," said WBFF news director Scott Livingston, an award-winning former photographer and Durlach fan. "Storytelling is the key to success. He really embraces that. He watches stories and asks questions. He comes in every day hoping to raise the bar."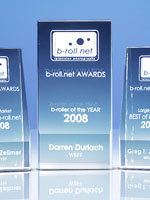 It's an approach that has made Durlach popular with anchors and reporters. "At our station, everyone wants to work with Darren. He makes getting the story and telling the story easy," said morning anchor Patrice Harris. So easy, in fact, that some reporters step aside to let Durlach work his magic behind the camera. "He's the kind of photographer who doesn't need a reporter," said WBFF reporter Jeff Abell. "His pictures are far better than any words I could write."
As b-roller of the YEAR, Durlach brings home a one-of-a-kind grand prize trophy and a Z90 LED camera light system from Zylight.