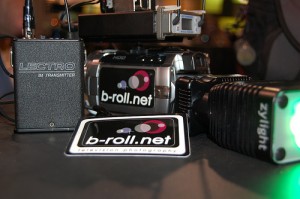 A whirl-wind tour of the NABshow floor on Monday – followed by the biggest b-roll.net BASH in history – followed by a red-eye flight back to DC – followed by coverage of the Pope…
Needless to say I'm a little slow with updates.
Amazingly, some of my compatriots worked harder, played harder, but still had great content up before me.
Check out blogs from Stewart "Lenslinger" Pittman, Rick "Turdpolisher" Portier and Chris "TV Photog Blog" Weaver.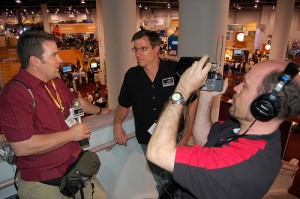 Andy "focusthis" Grossman ran ragged with me on the floor shooting video vignettes of some great new products with my little Frankenstein Canon HG10 camera outfitted by Lectrosonics and zylight. Not surprisingly, the accessories were more valuable than the camera itself. Stay tuned for video updates coming soon.
Non-stop Andy and my girlfriend, Clare worked the door as bouncers for the b-roll.net BASH. (Don't be quick to judge, Clare can toss a troublemaker in a heartbeat!) We had an amazing crowd of over 160 people at the Harley-Davidson Cafe treated to free food and beer from Miller Camera Support and Lowel-Light.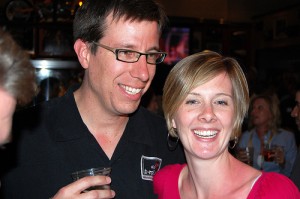 Great prizes were given away at the BASH, but I'll save that for the next post.
Thanks to everyone who helped out and everyone who came out to the BASH.
Andy and Clare, I couldn't have done it without you!
(btw, I stole these pictures from the amazing flickr photos of Rick, Chris and Stewart – Thanks guys.)