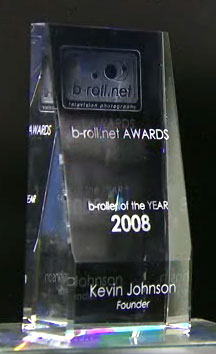 In my recent experimentation with web video, I've been awe struck by the H.264 codec. This compression scheme works amazingly well with video exported from Avid or Final Cut Pro.
Considering your uploaded file to b-roll.net TV must be 100mb or less, this codec may be a great option for getting your video ready for the b-roll.net AWARDS.
The only thing necessary is an upgrade of your free QuickTime player to QuickTime Pro ($30). (For the record, I'm not being paid by Apple for this…)
Apple has a great tutorial on the process.
For Avid, right-click on the sequence you want to convert, and select "export."
Select where to save the file, and make sure the Export Settings are set to "Fast-Export QuickTime NTSC."
This will produce an uncompressed .mov file that is roughly 200mb per minute (a rather large file).
Open the exported file in QuickTime Pro (this requires an upgrade of your free QuickTime player http://www.apple.com/quicktime/pro/)
At this point, export the file using the instructions from Apple.
There are many options for getting your video on b-roll.net TV, but we seem to have a bug when it comes to MPEG4. I don't recommend compressing your video in MPEG4 for use in the b-roll.net AWARDS.
One more thing… because most of us edit stories in 2 channels, and don't really utilize the stereo effect, it is best to compress your stories in MONO. Otherwise, your reporter will be over on the left speaker, and the interviews will be on the right.
Hope that helps everyone produce beautiful entries for the b-roll.net AWARDS.
Post any questions here… or email info@b-roll.net
UPDATE: Necktie Boy reminds me that newer versions of Avid have H.264 as an output option. Also, Brad bring us a good point about Windows Movie Maker in the comments.