On a slushy, cold day in Washington, DC, it's easy for the mind to wander to thoughts of warmer weather. The idea of sunny days and sizzling temps in Las Vegas gives cause for a little yearning. So it is, with that preface, that we start to plan for this year's NAB coverage.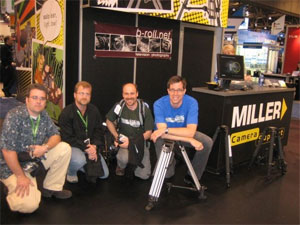 Last year was our biggest year yet. With the amazing team of Stewart "lenslinger" Pittman, Andy "focusthis" Grossman and Chris "tvphotogblog" Weaver, we trudged through the many square feet of convention space and brought back video from the floor. We ate and drank with fellow photogs at the b-roll BASH, sponsored by Miller Camera Support, and even lost a few dollars at the blackjack tables.
All in all, it was a perfect trip, so the best way to honor the event is to do it all over again.
Join us in Las Vegas or online to share in the world's largest TV Production Toy Store, April 16-18, 2007. We'll be there talking to the vendors and fellow craftsmen and bringing you the story online.
Details of this year's b-roll BASH will be released soon. In the meantime, we need your ideas. What equipment vendors do you really want us to talk with? What's the latest toy you want to know more about? Post a comment here or at the b-roll.net FORUM, or e-mail us at info@b-roll.net.
By: Clare James, b-roll.net