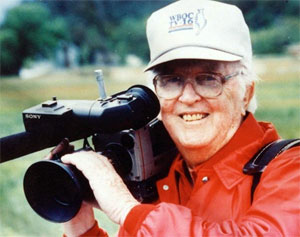 As a kid growing up in the little town of Salisbury, MD, no single person made me want to be a TV photographer more than Scorchy Tawes. His unique name always stuck in my head, but it was Scorchy's character stories and moving pictures that I could never forget.
After honorable service in the U.S. Army during World War II, Tawes cultivated a love for photography. In 1975, he joined the staff of WBOC-TV as an "Outdoor Report" photojournalist. As one of the first "VJs," he shot, wrote and edited his own stories about the lives and characters that make the Delmarva region of the country unique. They were unrushed people stories that let you feel like you were friends with the subject–the type of stories you don't see on local news anymore.
I had the honor of working with Scorchy in 1993, during my first gig as a TV news photographer at WBOC. By the time I started working there, Scorchy had put down the camera, but he still wrote and produced great stories for "Delmarva Report." It was an amazing opportunity for a young photog like me to be able to shoot stories with such a storyteller. He taught me how to look and listen. Follow the people and their faces, and you'll find the story, he explained. I learned a lot from Scorchy, and I am a better photographer and better person for knowing him.
Sadly, Scorchy Tawes passed away on January 29, 2007 at the age of 86. He is survived by four children, nine grandchildren (including Andrew Tawes, who has become an award-winning photojournalist in his own right), eight great-grandchildren, and many a photographer who he coached in the craft that he loved.
Read the WBOC obit for Scorchy.