From: Kevin Johnson
I am a young man… with an old man's back. If he wants it back, he is more than welcome to it!
Even though television cameras have become lighter over the years, heaving that 25-pound beast onto my shoulder on a daily basis gets old. My back doesn't like long shoots off the sticks… but sometimes duty calls.
When the ship and crews of the USS Theodore Roosevelt battle group returned home as heroes from the War on Terrorism, our station did wall-to-wall LIVE coverage. We were running up and down the pier interviewing families who were happily awaiting their loved ones arrival. It was great emotional television, but after 1-1/2 hours of running with the camera on my shoulder, I could barely walk.
I decided I needed to try an EasyRig! This unique invention was shown to me by Lars Ohman at the 16×9 Inc. booth, during NAB in Vegas. I called them up and they gladly sent a demo version for me to try.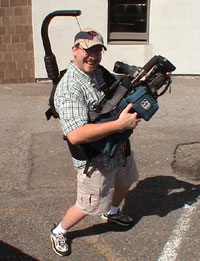 As I opened the package, I found what looked like a frame-pack used in mountain climbing. It was separated in the middle to allow it to pack compactly in the included bag. Snapping it together was… well, a snap. High-quality nylon straps and light aluminum rails made it very sturdy and light at only about 7 pounds. In no time I had the straps tweaked and pulled to have all the weight resting on my hips. The set up was amazingly quick. I clamped the camera to the tension cable and it was up on my shoulder… 10 seconds flat.
"Hey Kev… you look like Boba Fett… you trying out for the new Star Wars?"
"What's with the bumper-car hook on your back?"
"Are you going to blow the leaves off the front sidewalk?"
I started hearing the jokes immediately. The EasyRig does look strange and it didn't take long for a room of cynical photogs to start mocking it.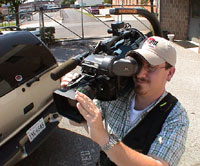 Their tune changed once they tried on the EasyRig. It was funny to watch their faces change when instantly, they could no longer feel the weight of their camera.
"Hey… this is pretty cool!"
"I could get used to this."
The EasyRig system uses a spring-loaded tension cable to pull the weight of the camera up to the support arm and then down to the hips and legs. You don't feel any weight on your right shoulder; the camera just seems to levitate there. Just like the pictures in the magazine ads, you can completely let go of the camera and it will sit patiently on your shoulder.
The "neutral balance" of the camera allows you to put it in almost any position, down to your waist. Hip-level shots are a breeze, and your arms don't tire holding the camera out. Even though the EasyRig is not a "steadi-cam" tool, the weight displacement lets you maintain steadier stationary shots. Off-the-shoulder interviews are a breeze and surprisingly steady.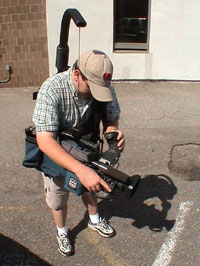 A few of our shooters have small waists that prevented the hip strap from pulling tight, but it did fit all of us with a little more around the mid-section. Probably someone with a 30″ waist or smaller would have to make some adjustments.
I did discover a unique problem with walking shot steadiness. Because the EasyRig rests on your hips, all of the up and down movement of walking is transferred up the rig and causes the camera to move. Compensating for that may be a skill that needs to be learned, but I found I can do steadier walking shots with my unassisted shoulder.
Even with its quick set-up time, the EasyRig2 wouldn't be practical for "run and gun" spot news shooting. But on the other hand, this product is perfect for use in sideline sports coverage, long duration shoulder shooting, and studio set work. It will save your back from the pain of long shoots.
Until cameras hover above the ground by themselves, nothing beats the EasyRig in taking the weight of shooting off your back. If I were to do the "Theodore Roosevelt" shoot again, I would only do it with an EasyRig!
For more information on EasyRig2, check out their web page:
easyrig.com or their U.S. distributor: 16x9inc.com