From:  Richard W. Adkins
Real men don't eat quiche. And real News Photographers don't use auto-focus. While you might find some of the hardened photogs at Sunday Brunch covertly enjoying a broccoli quiche, most News Photogs resist the temptation of allowing a tool to help them frame and focus a shot. So when the developer of ACCURACK blatantly pitched his invention on the b-roll.net Message Board, Veteran photogs were quick to dismiss it as an unnecessary accessory that a true professional can do without. Photogs bragged they didn't need a tool to help them roll focus, claiming instead that talented fingers could do the work.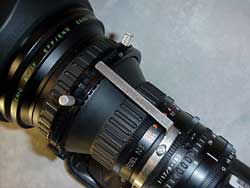 ACCURACK is a soft plastic track with moveable thumbscrew stops that neatly wraps around the focus ring of a television camera lens. A separate brake bar attaches to the existing accessory screw holes in the lens. By moving the stops, the device allows photographers to set a near and far focal length and roll between them flawlessly.
The developer of ACCURACK claims this simple device makes accurate rack focusing easy for the E.N.G. photographer.
I tried the ACCURACK for two weeks, using it on a Cannon HJ16x8B HD Lens. The great thing about the design of this tool is that you can leave it on the lens even when it's not in use. Simply leave the stops at the extreme far and near settings and you will never know it's there. Over the two week period I found only a few instances where I wanted to use the ACCURACK, but leaving it on the camera was not a problem and caused no interference in the focus operation.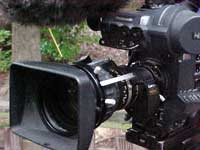 ACCURACK suffers not from a lack of legitimate use, but rather from its own advertising. The developer is aiming his device at News Photographers on daily assignments. I found the device hard to use for the quick b-roll shots, and even harder to use if shoulder holding the camera. I don't do a lot of rack focusing in my b-roll shooting to begin with, so I guess I would have to agree in part with those veteran Photogs mentioned above.
Where ACCURACK does shine is in more of an E.F.P. use. I thoroughly enjoyed using the ACCURACK for focus rolls in stand-ups and live shots. ACCURACK allowed me to easily set my focus limits within a narrow depth of field for shooting stand-ups off the tripod. Focusing on the city skyline, I set the far focus length. Then I had the reporter step into frame and set my near focus mark. The stand-up had the reporter beginning out of frame with the city skyline in focus. As the reporter stepped into frame, I rolled focus so the reporter was in focus. The ACCURACK allowed me to hit the focus mark every time. Too bad they don't make an ACCUTALK so the reporter could deliver his line correctly every time.
ACCURACK also allows you to set a focal point for live shots. When you have to zoom to a scene live on the air, this device allows you to set that far focal point so you don't have to worry about hitting your mark.
ACCURACK sells for just under a hundred bucks, that's well under the radar for most accounting expenditures in many shops. While the ACCURACK is not the answer to every Photog problem, it is a very useful tool for shooting repetitive shots, stand-ups and live action. Now if you'll excuse me, my broccoli quiche is getting cold.
NOTE: It appears this product is no longer manufactured.