Photographers Killed in Helicopter Crash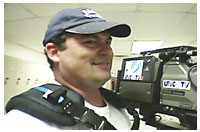 From: WRAL.com
SARASOTA, Fla. — A helicopter carrying three people shooting video for a boating magazine crashed in the Gulf of Mexico near Sarasota on Tuesday, killing two of the people aboard. One of those who died was a former WRAL-TV photographer, Mark Copeland, 44.
The helicopter went down in about 20 feet of water around 10 a.m., said Sarasota County Fire Department Assistant Chief Paul Dezzi.
Copeland worked at WRAL for 12 years before starting his own business as a freelance photographer in 1999.
"He absolutely loved the news business," WRAL-TV anchor David Crabtree said of Copeland. "Whether it was breaking news, a hurricane, covering a war or a local fire, Mark always got the pictures."
Shortly before the crash, the helicopter had been flying close to a boat that the crew was videotaping, but it wasn't clear what caused it to go down, sheriff's Lt. Chuck Lesaltato said.
"One witness said the helicopter came close the water and somehow flipped," Lesaltato said. "Debris from the helicopter hit the boat."
Copeland, of Raleigh, and Thomas Newby, 50, of Manhattan Beach, Calif., were pronounced dead after arriving on shore, a sheriff's official said. Helicopter pilot Mark A. Watters, 44, of Pasadena, Calif., was listed in serious condition at Bayfront Medical Center in St. Petersburg.
The boat operator and a model onboard the vessel were unhurt. Dezzi said the model, a nurse whose name was not immediately released, jumped in and kept the men afloat as rescue boats from more than half a dozen agencies responded.
"She dove right there into the fuel and was able to get a couple of guys out," he said. The men were brought ashore on police boats.
Dick Hendricks, executive vice president of Powerboat magazine's parent firm, Maple Grove, Minnesota-based Ehlert Publishing Group, said the magazine had several employees and freelance contractors in the area working on a weeklong series of boat tests.
The crash occurred south of Sarasota about two miles off a southwest Florida barrier island.
The Federal Aviation Administration and the National Transportation Safety Board have been called in to investigate.
Mark Copeland's website: http://originalproductionsllc.com/
Colleagues Remember
I'm an ex-tv news photog (though always a photog at heart) and still read B-roll.net to keep up with friends and the business.
Unfortunately one of those friends was killed today. Videographer (though I'll always call him a photojournalist) Mark Copeland of Raleigh, NC and still photographer Thomas Newby of Manhattan Beach, CA were killed when the helicopter they were in crashed into the Gulf of Mexico today. Pilot Mark Watters of Pasadena, CA, was seriously injured.
Copeland and Newby were shooting pictures and video of a boat test for Powerboat Magazine.
Copeland worked at WRAL-TV in Raleigh for over a decade. He was a great photog. As a newbie photog I dreaded going up against him because his stuff always looked better than mine, but that sort of competition made me better and as the years went by I was thankful that I got to learn by watching him go after shots.
Back in 1991 our chopper went down, and Mark was first on the scene. We shed tears together as we covered the crash, which took the lives of 3 WTVD coworkers and friends. I'll never forget his kindness in the wake of that crash. It was hard on all of us in that market.
He was in the air, doing a great job, no doubt, when the chopper went down today.
RIP Mark.
Victoria Pridgen Deaton
NCNN Anchor