Video at: http://www.ktvu.com/video/13667098
By DAVID RYAN
Register Staff Writer
Thursday, July 12, 2007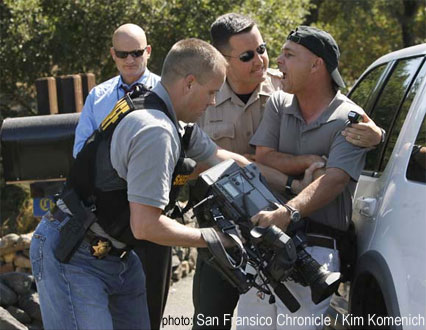 KGO-TV's ABC7 news director Kevin Keeshan said Wednesday he would be pressing criminal charges and filing a civil lawsuit against Napa County Sheriff's deputies for briefly detaining two of his colleagues.
Keeshan said ABC7 news photographer Craig Southern and reporter Wayne Freedman were detained by deputies around 4 p.m. Wednesday over an argument about whether the journalists were too close to a fire burning around the 2600 block of Atlas Peak Road.
Representatives of the Napa County Sheriff's Department did not return phone calls regarding the incident.
Keeshan said deputies broke one of the men's cell phones in half after he used it to film the other man being detained. Keeshan also said deputies confiscated equipment.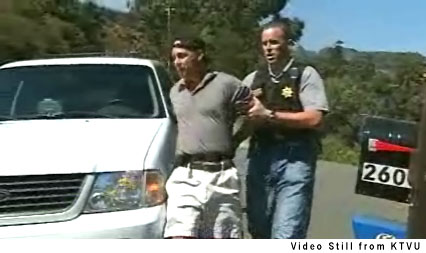 "I've been a journalist for 30 years in California and never in my 30 years have we ever had a reporter or photographer arrested or detained for doing their job," Keeshan said.
The journalists were filming the fire about a quarter mile south from the blaze from where a Napa Valley Register reporter and photographer were allowed by deputies to gather news near the base of the fire.
"We will pursue all legal actions," Keeshan said, adding a Napa County Sheriff's representative called to apologize and assure him the department would perform an internal investigation.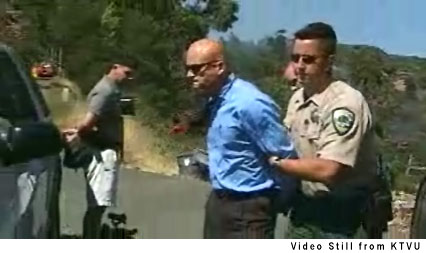 Newsmen arrested reporting on fire
Thursday, July 12, 2007
Napa County sheriff's deputies detain KGO-TV cameraman Craig Southern after he attempted to get video of firefighters battling a brush fire off Atlas Peak Road near the Silverado Country Club on Wednesday. Southern and KGO reporter Wayne Freedman (background), were arrested for allegedly failing to heed an officer's instructions. They were later released and not cited. A dozen homes were saved from the fire, which burned about 60 acres. Some residents evacuated their homes voluntarily, but no mandatory evacuations were ordered. By early evening, the fire was 95 percent contained.
b-roll.net FORUM discussion at: http://b-roll.net/forum/