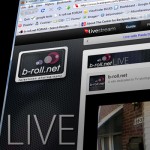 In preparation for NAB2010, we've teamed up with livestream to set up a live video channel here on b-roll.net. Presently we're looping the first place finishers in the b-roll.net AWARDS, but when we land in Vegas, we'll have intermittent live cut-ins. The "live shots" will be shot with web-cams and cell phone cameras, so the video quality might not match the equipment we're used to, but it will be the fastest way to share the excitement of NAB with you.
If we can get a connection, we'll have live video from the BASH. Don't worry the really good stuff with "stay in Vegas."
We have a small player on the front page of b-roll.net – or you can always go straight to http://b-roll.net/go/live/.
Try it out and let us know what you think.
See you "on the TV!"