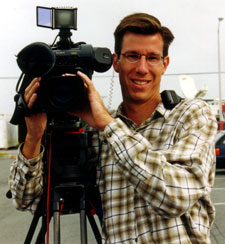 kevin johnson
243 17th St. SE
Washington, DC 20003 USA
(757) 486-8842
info@b-roll.net
http://b-roll.net
Production Skills:
ENG/EFP Videographer
Web Site Designer and Producer
On and Offline Editor
Live Truck Operator
Film and Video Production Assistant
Work Experience:
b-roll.net
Designer and producer of web site dedicated to Television News Photography. 1996 to present.
Cox Broadcasting, Washington Bureau
TV news photographer, Avid editor covering national stories for local stations in the Cox ownership group. October 2002 to present.
WVEC-TV 13 [ABC, Norfolk VA]
TV news photographer, editor, with international assignments including Bosnia, Cuba, Italy, Albania, and Arabian Gulf. November 1994 to present.
WBOC-TV 16 [CBS, Salisbury MD]
TV news photographer, editor, live truck operator, and studio camera operator. May 1993 to November 1994.
Osprey Point Films [Baltimore MD]
Freelance grip and camera P.A."Waterman" film trailer. November 1993.
Universal Studios Florida, Production Department
Production assistant for back lot productions, including national commercials and network programming. Position received after completed internship. Summer 1993.
Reel World Productions [Salisbury MD]
Production Supervisor. Videographer, editor, director, and producer for campus cable. 1992 to 1993.
Studio 151 (a division of Preston Trucking Company)
Videographer, editor, computer graphics and 3D animation designer, writer, and producer for corporate video department. 1992 to 1993.
WMDT-TV 47 [ABC, Salisbury MD]
Weekend Director, ENG/EFP videographer, studio camera operator, live audio operator, and editor. 1991 to 1992.