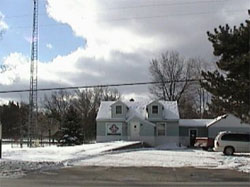 How many times have you been frustrated with your station's management and said those famous words… "If I owned the TV station, I'd do things differently."? Well, now is your chance.
A UHF TV station is up for sale in Muskegon, Michigan (home of Ice Breaking Live Trucks?), and they've decided to sell it through the most prestigious of re-sellers… eBay.com.
According to the eBay listing:
"This is a working TV Station UHF. It has been on the air 16 years has a new transmitter and all accessories, studio cameras 8 Satellite dishes. Comes with a Commercial Building next to a express way with easy on and easy off."
And the recommended uses?
"This station is a 24-hour broadcast station, it could be used as a christian station and receive donations, or be made into a full time shopping station."
Start saving your pennies. If you can't wait until the auction is complete, the "Buy It Now" price is only $750,000.
Thanks to Bryan Tulwits for the tip…