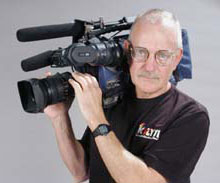 ON THE LEARNING CURVE:
Stumbling Toward the Nonlinear World
by Mel Stone, reporter/photog KVLY-TV
From time-to-time, I've dangled my toe in the 'water,' of nonlinear editing. Most of what I've read and heard seems to point to Final Cut Pro (FCP) as the way to go.
Apple's Operating System (OS), some claim, is so much more stable then a PC's Microsoft OS; and Avid ran only on PCs.
In the summer of '02, during the NPPA convention in Minneapolis, Avid announced DV Express for Macs. I met Avid's current development star, and boy, Avid sounded damn good. I'm leaning towards Avid on a Mac.
I run this by Kim Fatica, a shooter with a lot of experience in the nonlinear world (I'd read his reviews on http://www.b-roll.net.) He had good things to say about Avid, but basically concluded, "I still prefer FCP."
I'm getting ready to go.
I even joined the Minnesota Final Cut Pro Users Group in early '03. From the publicity guy I get the name of a FCP expert who's a salesman at the Edina, Minnesota Apple store.
Then, I have second thoughts. It's spring of '03 and gardening season's coming on (I'm a hardcore amateur landscaper.) I'll wait for fall.
Late that summer, I have 2 weeks of vacation (Oct. 26th-Nov.9th, '03) scheduled. I'd like to learn how to edit on a computer during vacation!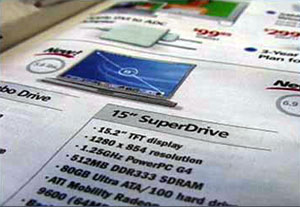 Figure 1: A fellow-photog's catalogue catches my eye. Time to move and it looks like a good deal.
October 14th, 2003: I order a G4 Powerbook with 768 MB of RAM (a 512 chip and a 256 chip), Final Cut Express, a 200GB external FireWire hard drive and ancillary items from Mcconnection. (I already own a Sony 3-chip miniDV, the TRV900 and a Sony TRV11.) I'm going non-linear.
But the new, revamped Powerbook is so popular it's back ordered.
I've debate this decision for months, but now that I've made it; I WANT THE COMPUTER NOW!
So why this configuration? A 64 bit machine, the G5 is just out, but some suggest "early adaptors" pay a price. And a look at the Apple site shows there have already been a couple of "fixes." A dual processor G4 was certainly an option. Early in my deliberations, a fellow shooter had suggested a laptop-- portability would be nice.
Final Cut Pro 4 is out, but Macworld had the software crash a couple of times and concluded this version had been rushed to market. Final Cut Express is cheaper and, I though, would have a flatter learning curve.
Everything I've read and heard says to use an external hard drive (connected via FireWire to your computer) to edit FCP or FCE. This speeds up processing. The G4 laptop's internal hard drive runs at about 4200 RPMs, the Maxtor "One Touch" runs at 7400 RPMs. And with "one-touch" you can easily backup you work.
I ran this thinking by a pro who uses Final Cut Pro all the time, and he said it made perfect sense.
October 15th: Once again I work through Apple's on-line Final Cut Express Tutorial (Apple may have removed this, now):
http://www.apple.com/finalcutexpress/theater/
*Maybe it's because I've finally ordered the stuff, but this time, I learn things I hadn't even noticed before. But I know there's only way to actually learn something: do it! I WANT MY COMPUTER NOW!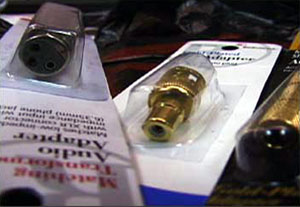 Figure 2: On some occasions, I may need to down load from my $30,000 DVCpro... These adaptors (XLR & BNC) should do the trick.
*I buy bnc-to-phono and an XLR-to-phono adaptors. This way I should be able to dump video from my Panasonic DVCpro camcorder into my Powerbook (DvCam has a FireWire out, my Panasonic model does not.) I also have hours of old stuff on 3/4" video and a 3/4" deck the station was going to throw away... late in my vacation, I use the connectors to hook the deck to my miniDV. It works. I may archive the 3/4" stuff to DVD.
Nov. 2nd to 8th: A bad week: On Tuesday, I call Macconnection. The laptop is still back ordered and now they're saying the machines may show up even later, Nov. 14th!
Nov. 6th: I surf the web and find a site where people talk about their Macs. It seems the new 15" laptop has some problems: the case won't latch on a lot of them, the power adaptor is giving owners fits, some white splotches are showing up on the screen and another problem sends me into a panic. It seems some bad 512 MB ram is causing something Apple calls "kernel panic." This is basically a system crash that locks up the computer.
I talk to a service rep at Macconnection and ask about this. Finally, she says: "Can I guarantee that when your computer arrives it'll work? No." Just what I need to hear. A call to a service rep at Apple doesn't provide any comfort.
I'm debating canceling my order and driving to Minneapolis to buy one at an Apple store-- that is, if they can set the thing up and prove that it's working. But I don't cancel the order and delay my trip.
Saturday, Nov. 8th: I read the December issue of Macworld. The 15" Powerbook (my model) is reviewed. The editor buys 6 machines for the review, half of them have some quality control issue, including the latch, white spots on the screen and "kernel panic" problems. Apple is chastised for sloppy quality control.
Apple might benefit from cocking a sterner eye toward quality control... so the laptop you receive will be the laptop you love.
I read a new announcement from Avid. A new, cheaper version of Avid DV Express is being released. This would run only on a PC. I think I'll visit the local Gateway store.
Saturday, Nov. 8th: I visit the Gateway store. They struggle, but can come close to the Powerbook. Unfortunately, the Gateway has only one 400 FireWire input and one 800. (I'll later find out I missread the specs on the G4 Powerbook--it has only on 400 input, too.)
I call my final cut pro expert at the Edina Apple store. "Can I buy a Powerbook, we'll set it up and if it has problems, we'll look at another one, and so on, until I get a machine that works." Do dice! If I buy a machine, and we set it up and it doesn't work, I'll have to send it in for repairs.
Sunday,Nov. 9th: I'm canceling my order with Macconnection. I place an order with Apple and upgrade to 1G of RAM (one chip with a gig of RAM; I want to avoid that 512 RAM.) I also spend $349 for APP (Apple Protection Plan); a 3-year parts, labor, and phone support. Everything I've read or heard says this is especially vital for laptops.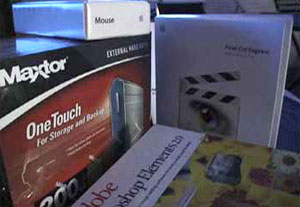 Figure 3: It's all here except for the Powerbook... I wait impatiently.
Thursday, Nov. 13th: Apple's shipped stuff and over the next week, or so, it dribbles in. Finally, by Thursday everything (Adobe Photoshop Elements 2, Final Cut Express, Apple Mouse, APP) has arrived except my computer. The purchase order says: "delivered on or before December 2nd."
Sunday, Nov. 16th: I read about a FCE book, FINAL CUT EXPRESS Editing Workshop by Tom Wolsky, which includes a CD-ROM (DVD) tutorial; it comes bundled with Final Cut Express for Dummies from Amazon.com. I order them.
Friday, Nov. 21st: Bad news and good news:
Bad News: I get a e-mail notice from Apple: We were unable to obtain an authorization for this order... Even though I had called my credit card company (and the card company had called me, too) to tell it of this large order, this is the second time this has happened. It turns out Apple submitted a credit authorization twice, so naturally my credit limit was surpassed.
Good News: Apple tells me the computer will be shipped within 24 hours! My 2 books from Amazon arrive.
Sat., Nov. 22nd: I check on-line, the computer has made it to the airport in Taiwan and is expected to arrive, Nov. 26th.
Monday, Nov. 24th: I buy a surge protector-battery back-up, Maxtor "one-touch" FireWire hard drive (200 GB) and a 4 to 6 pin FireWire cable (cameras typically have a 4-pin slot, the computer has a 6-pin slot.) I'm ready to go, when the computer gets here.
Tuesday, Nov.25th: Oh god! As you might expect, ever since I received notice that my laptop and been shipped, on the 22nd, I've been tracking it on the FedEx site. It's been sitting in the C.K.S. INTL AIRPORT TW (TAIWAN) FOR FOR 3 DAYS!
I CALL "ORDER STATUS" AT APPLE. THE AGENT CHECKS WITH FEDEX. IT SEEMS THERE WAS A MECHANICAL PROBLEM. TRANSLATION: A PLANE BROKE DOWN. THE NOV. 26TH DELIVERY DATE WILL NOT BE MET.
WEDNESDAY, NOV. 26TH :(THANKSGIVING EVE): LATE IN THE DAY, FEDEX TRACKING SHOWS THE COMPUTER HAS ARRIVED AT THE SORTING FACILITY IN MEMPHIS, TENN.
FRIDAY, NOV. 28TH: I HAVE A VERY EARLY SHOOT... A STORY ON THE 'CRAZIES' WHO LINE-UP OUTSIDE WAL MART, WAITING FOR THE 6AM OPENING. THE SHOOT GOES VERY WELL--GREAT SOUND BITES AND GREAT VIDEO OF CRAZY SHOPPERS. I RETURN TO THE STATION, AND CHECK 'PACKAGE STATUS': IT'S LEFT THE MEMPHIS FACILITY. I START TO EDIT MY PACKAGE AND ABOUT 10:30AM, THE STATION RECEPTIONIST BANGS ON THE EDIT BAY DOOR. I HAVE A PACKAGE. I CAN'T BELIEVE IT! MY COMPUTER'S FINALLY HERE.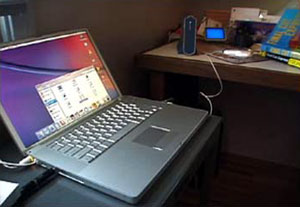 Figure 4: It's Friday evening, I have the whole weekend to learn the computer.
Send us your news and info.... E-mail us at support@b-roll.net or drop a message on the b-roll.net Message Board, and tell us what you think.