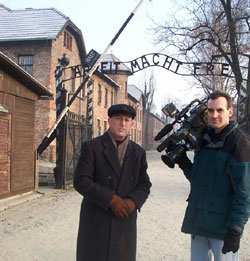 Kevin,
Thank you for B-roll.net. I enjoy reading and contributing to the ongoing discussions about our craft. Keep up the good work. Here is a shot of WKRC Reporter Jeff Hirsh and I at the gate of Auschwitz. (December 2002) We were shooting a documentary about a Holocaust survivor who was re-tracing his family history and telling his story for the first time to the extended family of the Dutch couple who saved him from the Nazi's. His mother was murdered at Auschwitz.
Jeff Barnhill, Photojournalist - WKRC/Cincinnati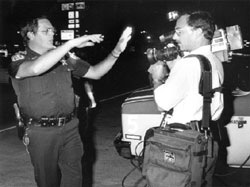 This is kind of old, early in my career. A high-speed chase ended when a motorcyclist struck a vehicle head-on, and was killed, while traveling east into west bound traffic. The deputy over-reacted upon my arrival as seen in the photograph captured by a newspaper photographer.
Hi Everyone,

These are photos of me at a protest rally against the closure of a major shopping centre in the city of Tamworth NSW, Australia.

Unfortunately they were nearly all middle aged women. So there was no biffo to make things more interesting.

Keep up the good work.

Darren 'Jumpcut' Stout
NBN Television, Tamworth
Australia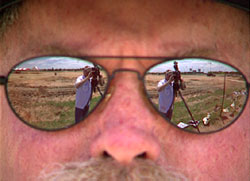 Thanks for the great site, I visit on a regular basis.
Here is a freezeframe of myself interviewing a cowboy after the Coors ranch rodeo/chuckwagon cookoff.
Granted you cant see the chuckwagons, I thought the reflection in his sunglasses would make a cool pic to send in.
Billy Loftin, photojournalist
KVII channel 7 ABC Amarillo TX
Hello everyone,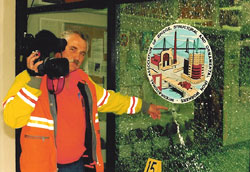 Well here I am at the site of the Ironworkers shoot out. It would appear that a guy was not happy with his lack of assignments. Fortunately no one was injured during the shoot out.
See I must look serious as I am a "Certified Crime Scene Videographer".
Best wishes to all.
Russ Clifton,CCV
Seaclif Productions
390 Kellyn Ct
Benicia, CA. 94510
seaclifproductions.com
Hey Kev,

Great site, you do a fine service to all photogs.

Here are some pics from FashionWeek in NYC from February '03.

It's tough getting a decent still shot and being in it at the same time.

That's me admiring the cut of some fine fashion and a view from the pit jostling with all the still photogs...

Thanks,
Joe Pedalino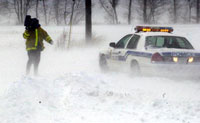 Hi Kevin,
It is great to have b-roll online. You guys rock. I am a freelancer in Abbotsford, British Columbia, Canada.
Here are a couple of pics a newspaper photog took of us at some news scenes.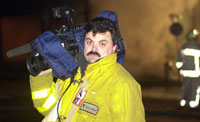 The first was during a snow storm the winds where blowing at 50km/hr. Lots of fun to shoot in.
The second is at the scene of an apartment fire.

Kevin A MacDonald
KAM Productions
www.valleynewscentral.com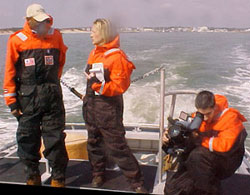 Hi there,
Here are a few shots from one of the most fun packages I've ever done.. a story with the Ocean City Coast Guard unit about their role in Homeland Security during the war.. (these guys were kind enough to let us tag along, and of course in turn, shoot us!).
Reporter Amy Szutowicz and I had a great time...
Andy Cunningham
Photog, WBOC, Salisbury, MD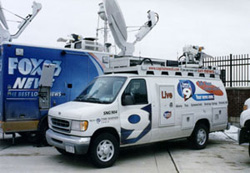 Here's a picture of our ENG / DSNG live truck in action. We were in Trenton, NJ for the MAAC Basketball tourney in early March '03. We are Capital News 9.... Albany, NY's new 24 hr. local news station.
Thanks,
Shawn Hilleboe
Videographer/ Truck op.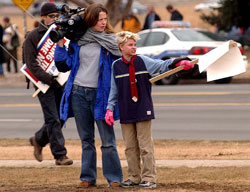 This picture was taken by a local newspaper photographer at an anti-war protest that turned ugly. My reporter and I took one for the team. We got tear gassed. I found this kid crying and thought he was lost. So when I went up to help him all he did was scream, "Those cops shouldn't be tear gassing just anybody!" Yet another lesson learned: Don't get too involved in the story!
From: Autumn Kaskie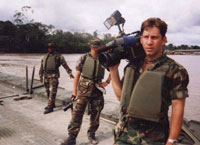 Rob Michaud... A full time photojournalist on a shoot for his National Guard unit in Ecuador.
Robert Michaud
Field Operations Coordinator/Photojournalist
BELO Capital Bureau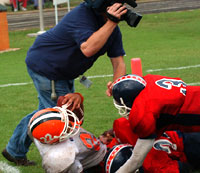 I have two I would like to share with you. I'm new to this site, but from what I have seen, it rocks. The first picture is of me (Dwight Nixon) getting a little too close to some high school football. I need to learn to keep that other eye open. Trust me, the video is even better. I'll try to send that when I can.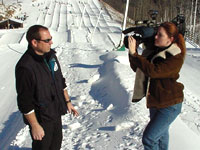 The second picture is of Jennifer Warnick who did an awesome NAT Package on the early opening of the Wintergreen Ski Resort because of the early snow.
From: Dwight Nixon, WWBT Richmond, VA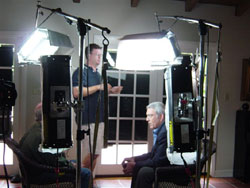 Hey there,
Here's myself, Rob Macey, shooting with Dan Rather for 60 Minutes II. John DeTarsio and myself are the DP's.
We used 6 Kino's, source 4's and the like.
Dan loved my shorts!
The joy of freelancing!
Thanks, Rob. rmacey@yahoo.com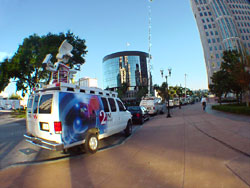 IMAGES OF FLORIDA NEWS
Orlando, FL live trucks parked in front of Orlando City Hall --this was a press conference with our Mayor announcing she is leaving to work for Florida Governor Jeb Bush.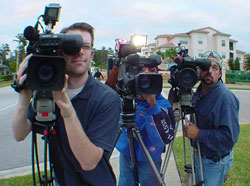 3 photog's after a quick interview with an Florida Department of Law Enforcement (F.D.L.E.) official giving us details about a victim that died while in police custody.

Pic # 1: From Left to right
Jeff ( Channel 9 WFTV- ABC)
Elias (Channel 6 WKMG -CBS)
and Jim (Channel 35 WOFL-FOX)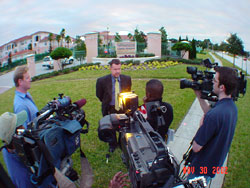 Pic #2: F.D.L.E official being questioned by reporter Darrian Trotter from WFTV
From: Elias Yacob WKMG - CBS, Orlando, FL
IMAGES OF MOOSE CAMP

My personal introduction to the DC area was a search for "the SNIPER" in October. Having just taken a bureau gig, most people thought that was the end of my spot-news career. Wow were they wrong. I was able to quickly learn the beltways and highways of my new town.

Jeremy Moorhead of WBFF in Baltimore, MD send me a few pics of the 3 week stake-out dubbed "MOOSE CAMP." All of the networks and most of the locals were permanently camped out at the Montgomery County Police Headquarters with tents waiting for the next press conference from Chief Moose.

Here's what Jeremy wrote:


I was rummaging through some pics this afternoon and thought it would be cool to send you some from the whole sniper story from Montgomery County Headquarters. I'll send you some and you do what you want with them! Enjoy! I put one of myself in the bunch holding the camera out and taking a picture of myself. I just wish I had put my camera in the shot! Oops!

From: Jeremy Moorhead, WBFF, Balitmore, MD
Take care and keep in touch.