February 26, 1998:
Back to Bahrain
We awoke on the third day of our USS Guam stay to the sights and sounds of a Gas Attack Drill. Marines rehearsed donning their masks, while dismantling their guns, and drinking through a tube from a canteen. It was kind of eerie to think what it would have been like if it were real.

Around 2 o'clock we jumped on another MH53 chopper to fly back to Bahrain. It was rather cold on the flight deck for the Persian Gulf, and on the helo I took a seat next to the window. My intention was to get an aerial shot of the Guam, but what I got was a constant cold wind from the half-open window. Imagine driving down the road at 150 mph with the window down... it wasn't fun.

Once we arrived on land we rushed to complete two packages to send back to the states. With the expense of satellite time, we try to send as many stories as we can each time. After getting used to the nuances of the portable SX editor, I was able to get into an editing groove and complete the packages just in time.

Due to the differences in TV formats (PAL vs. NTSC), we had to carry our own playback deck to the feed point (Bahrain TV). We hopped in a cab and were off. The feed went smooth and we were able to send both a regular and "nat sound" version of the stories.

We're off to the USS George Washington for a quick day trip tomorrow. I hope to be back by the evening.

February 27, 1998:
"A Three Hour Tour":
The famous words from Gilligan's Island rang in my head. We were off to do a day trip onto the USS George Washington today. Fly in a C2 Cod for an hour, land on the carrier, and spend 3 Hours on board.

Since we were not stay to overnight, I only took the bare essientials with me. It was nice not to care all the weighty gear up and down ladders and passageways (with the aptly named "knee knockers").

If you've never been on a carrier, you really need a day or two to get the full impression. You fly in on a twin prop airplane called a "COD" (the possible mental connection to COD LIVER OIL is not lost here). The plane has no windows and you face towards the back of the craft. You basically feel as if you are sitting in the back of very bouncy, very noisy U-Haul truck. Imagine your worst commercial airline experience and multiply it. The landing is the most impressive, as you fly in at around 180mph and stop on a wire in 3 seconds (good anti-lock brakes are no comparison to these planes).

Upon landing we RAN around the ship getting all the elements we needed. We talked to the skipper, or "CO," of the ship, and the Carrier Airwing Commander, or "CAG." We track down some local pilots, and had just enough time to catch one rotation of "Flight Ops." They launch 10-15 planes off the catapults, and then land a similar number.

At that point our time was up. We had to load up to fly back. Fortunately, Reporter Mike Gooding and I had had carrier experience before. It made it easier to know what we needed. It was hectic but effective.
We board the "COD", hold on for dear life, and shoot off the boat like a cannon... 0-180mph in about 3 seconds. Your vision fails you with that much force, but the physical pressure stays in your memory well.

Our journey is almost done. We have two more stories to edit and feed tomorrow, and then we fly home on Sunday. We may have a little down time in the next few days, and I'll finally be able do the things I've wanted to do. I want to ride a camel!

February 28, 1998
Hurry Up and Wait:
Flying home from Bahrain, I made it
all the way across the Atlantic Ocean
with no problems (except for an
extremely uncomfortable ride on one
flight). As soon as I land in the States
though, things get messed up. I'm
sitting in JFK airport in New York
waiting for my connecting flight home.
Our original flight was canceled for
some reason. We don't leave now for
3 hours. What better thing to do in an
airport but fill in my journal for the day
(and listen to a little REM and Talking
Heads).

I think I could call the trip to Bahrain a
success, especially since there was
no war. Unfortunately, we are all
predicting we will be back in Bahrain
around November doing this all over
again. I don't think we've seen the last
of Sadam.

All the gear worked very well on the
trip, even under the severe conditions
of weather changes and airline travel.
The portable Sony Betacam SX editor
was wonderful. Before you think I'm
doing a sales job for Sony, I should
explain that when I first began working
with the SX format I really disliked it.
There were bugs in the editing
software, intermittent tape problems
with the cameras, and a non-linear
editing system not truly configured for
the rigors of news production.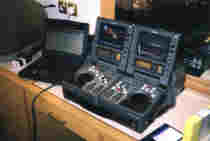 One of my biggest complaints was the
responsiveness. With the digital
decoding, the original decks were
slow to shuttle and jog and they didn't
want to stop on a dime. I'm pleased to
see that the new SX portable editor is
different.

According to the salesman, the newer
SX systems have upgraded software
greatly improving the responsiveness.
(continued above)

It is still not as good as the analog
versions, but I can see the progress.
The optimistic thing is, because SX is
a digital medium, many problems can
be simply solved with software
upgrades, not full fledge hardware
changes.

The editor was just one of the things
that made this trip fairly easy. I'll have
some more pictures and thoughts
soon. I look forward to hearing your
comments and suggestions.
Oh, by the way, I finally got to
ride a camel!
Take care and keep in touch.