Navy Christmas '99: The USS Bataan Ready Group
The Trip Home
We made it home safe and sound. The flight went well. As soon as we set foot on US soil, we were back to work. The edit session took a week and a half, and we turned out a pretty good show. I realize I'm biased, but compared to my effort last year, I like the finished project in 1999.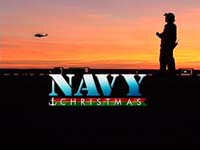 The off line edit was done on one of our portable editors. It was easy to take out of the loop (allowing me to avoid being kicked out of an edit bay by daily news), and it's our only way to edit all digital with 4 channels of audio. With all of the nats and music, it was awesome having all those channels.
Bryan Barbee, our online editor,